Yes it's true, the clothes of the same number, defer in size. More than 12 cm, can you believe it??
If you're shopping with an intimate friend, and she presents you a pair of jeans 2 sizes over or under yours, don't face it like being an ofense or disinterest.
Actually the brands are following their own list. So it's impossible to hit the right size of your clothes just by checking the number in the label.
Esquire.com found an 12,7cm difference in trousers with 34 in the label, but with 39 inches.
Nitimes.com found also a difference of 3 sizes in dresses of the same number.
Beyond confusing the costumers, the wrong numbering, contributes to increasing the returns, by having already provoked a siginifcant injury in 2010, representing 8% of clothes shopping.
Here is a table, ilustrating that reality, as a result of a recent research:
__________________________________________________________________
Sim, é verdade, as roupas do mesmo número, diferem no tamanho. Mais de 12 cm, acreditam nisto?
Se andarem a fazer shopping com uma amiga que já conhecem à anos, e ela vos mostrar uma calça dois números acima ou abaixo dos vossos, não vale a pena levar muito a sério ou mesmo como ofensa.
As marcas estão mesmo a seguir a sua própria tabela na hora de numerar as peças. O resultado? Ficou impossível acertar só por olhar para a etiqueta.
A Esquire.com encontrou 12,7 cm de diferença numas calças com etiqueta 34, mas com 39 polegadas.
Já a Nytimes.com verificou uma diferença de 3 tamanhos em vestidos com a mesma numeração.

Além de confundir os consumidores, a numeração errada só contribui para o aumento das devoluções tendo já provocado um prejuízo significativo em 2010 no valor de 8% das compras.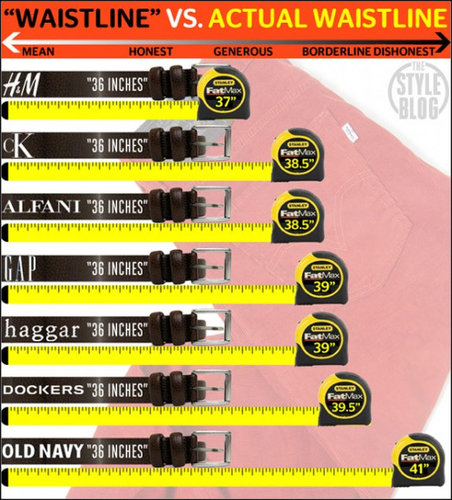 xoxo,
anna silk